Diabetic Retinopathy
Diabetic retinopathies and macular degeneration affect a great percentage of the American population. We will be able to assist you with state-of-the-art treatments for any retina disease.
Diabetic Retinopathy Symptoms
You can have diabetic retinopathy and not know it. This is because it often has no symptoms in its early stages.
As diabetic retinopathy gets worse, you will notice symptoms such as:
Seeing an increasing number of floaters
Having blurry vision
Having vision that changes sometimes from blurry to clear
Seeing blank or dark areas in your field of vision
Having poor night vision
Noticing colors appear faded or washed out
Losing vision
Diabetic retinopathy symptoms usually affect both eyes.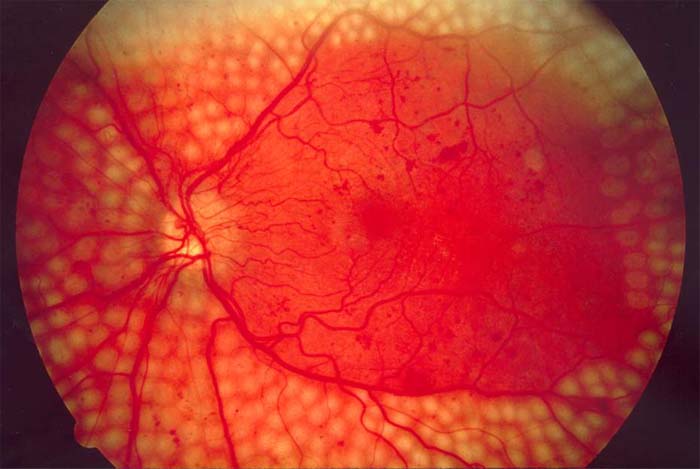 What Causes Diabetic Retinopathy Symptoms
Diabetic retinopathy is a process where the blood vessels in the retina begin to leak, causing swelling (edema). When the degree of edema becomes significant, a laser procedure known as a "focal treatment" is used to attempt to decrease the retinal swelling. As with glaucoma, the best strategy is prevention, because even after successful treatment, vision may not be restored.
Preventing Vision Loss From Diabetic Retinopathy
See your ophthalmologist regularly for dilated eye exams
Diabetic retinopathy may be found before you even notice any vision problems
If you notice vision changes in one or both eyes, call your ophthalmologist right away
Get treatment for diabetic retinopathy as soon as possible. This is the best way to prevent vision loss
Treatment: We can perform a laser procedure known as a "focal treatment." This is used to decrease the retina swelling. For more advanced retinopathy we could do more extensive laser, a pan retinal photocoagulation. As with glaucoma, the best strategy is prevention, because even after successful treatment, vision may not be restored